2000 Posts Club
Founding Member
Premium Account
U.S. Air Force Veteran
Donating Member
HFCOTM & HFCOTY
Member ID

#797
Messages

2,853
Reactions

7,587
Points

302
City

SW Twin Cities
State

MN
Country

United States
Vehicle

2019 Dodge Challenger Redeye WB
No this is not a trick thread. We need more discussions on our cars. I don't see a discussion here yet on the catch can. I have owned three Hemi engines in 14 years (cars anyway, I can't count how many little 5.7 Hemi engines I have owned in our Jeep GC's). But after emptying my can last night on the Redeye, I have some pretty good feedback on three of our favorites, and would like to see and hear some others. I have used the same type of BT can for all three mounted just above the thermostat housing.
1. 6.4L- that engine filled the catch can up quickly. It passed lots of oil through the PCV system.
2. Hellcat Ver 1 2015 - that one noticeably did NOT pass as much oil as the 6.4, still collected an impressive amount and so the can seems to work.
3. Demon/Redeye 2019 - this is a truly impressive improvement. This observation prompted this thread. I emptied it last night. It was not touched since May. Six road track HPDE days and about 4000 inclusive miles. All I got was about a 1.5 oz! Impressive! What does others see in their cans??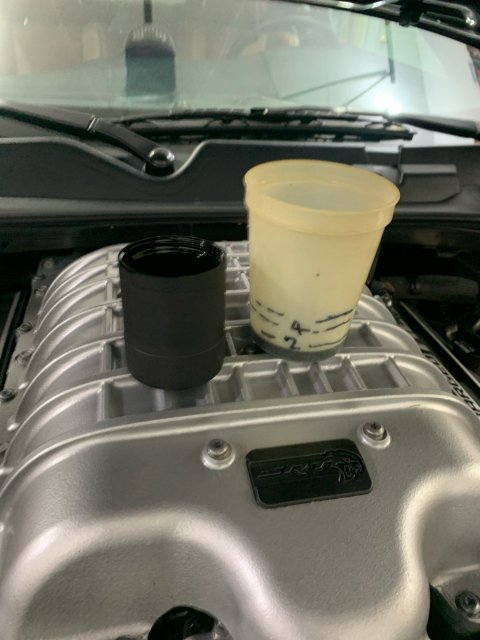 5